in the red trail. The arrangement of this tour requires some investment by the private sector. A central Camp Hotel is constructed near the desert palaces. Sleeping could be in tents and/or a simple building, which houses the restaurant and other service facilities. Taditional Umayyad, Bedouin, Druze, and Shishan foods could be served. Evenings around a campfire can be livened by folklore dances and songs of Bedouins, Druze and Shishan. In addition to the Castles in itinerary 2, the tourist experiences desert life as well as several sites: Azraq Fort, and Azraq Wetland Reserve, Shomari Nature Reserve, Qasr As Sukhaym, Qasr Huwaynit, Qasr Fahdawi and Qasr Burqu with its lake. The tour should include emphasis on water management and Umayyad water installations. An optional tour to Tuba Castle and a short trail visit to Wadi Sarhan where the old Hajj road crossed could be interesting to pious Muslims and other history enthusiast.
The itinerary ends with a visit to Qasr AlHallabat and Hammam AsSarah followed by Um Al Jmal (equally an Umayyad site), the famous basalt city of multiple historic occupations, Rhab the city of thirty ancient churches, and Jerash with a late lunch or dinner with Arabic maza and barbecue.
An alternative to the camp site could be the use of the Azraq Lodge of the Royal Society for the Conservation of Nature (RSCN). For a list of lodges promoted by the RSCN refer to the site http://www.rscn.org.jo.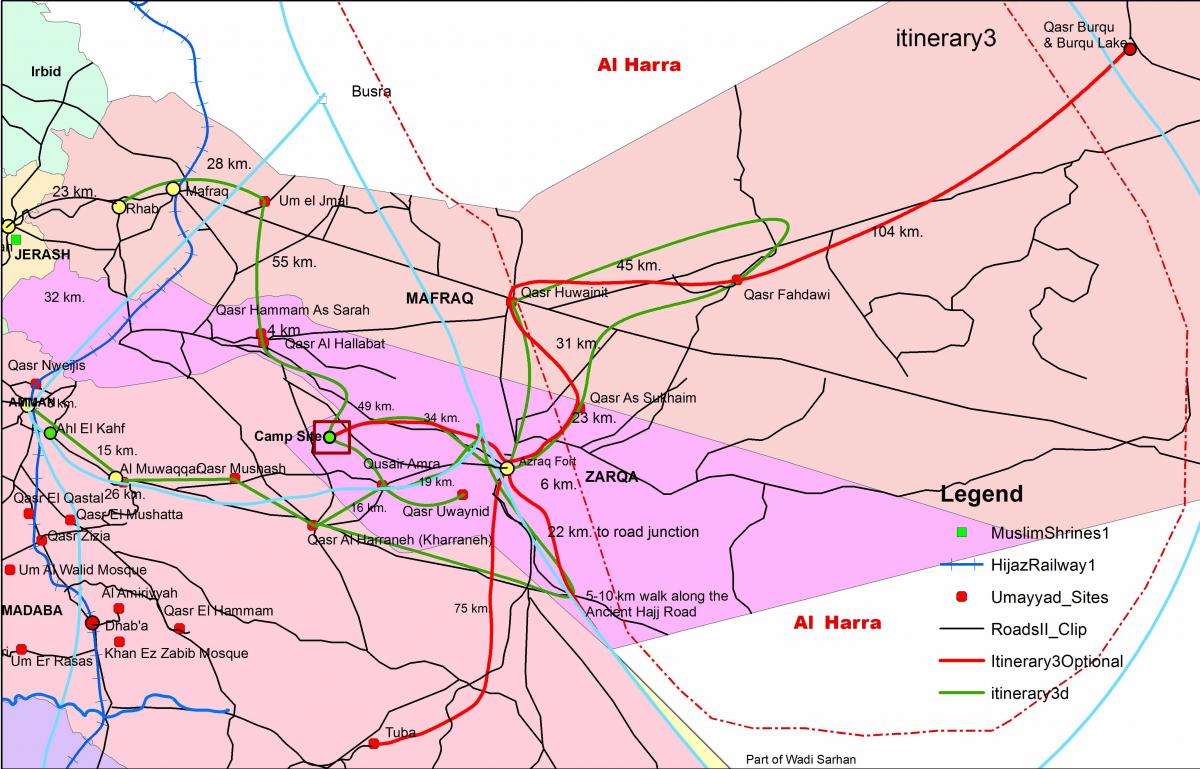 (Click on image for details)